Collect Rent Online
Effortless Rent Collection
Direct from your tenant's bank to yours.
Rent paid. On time. From anywhere.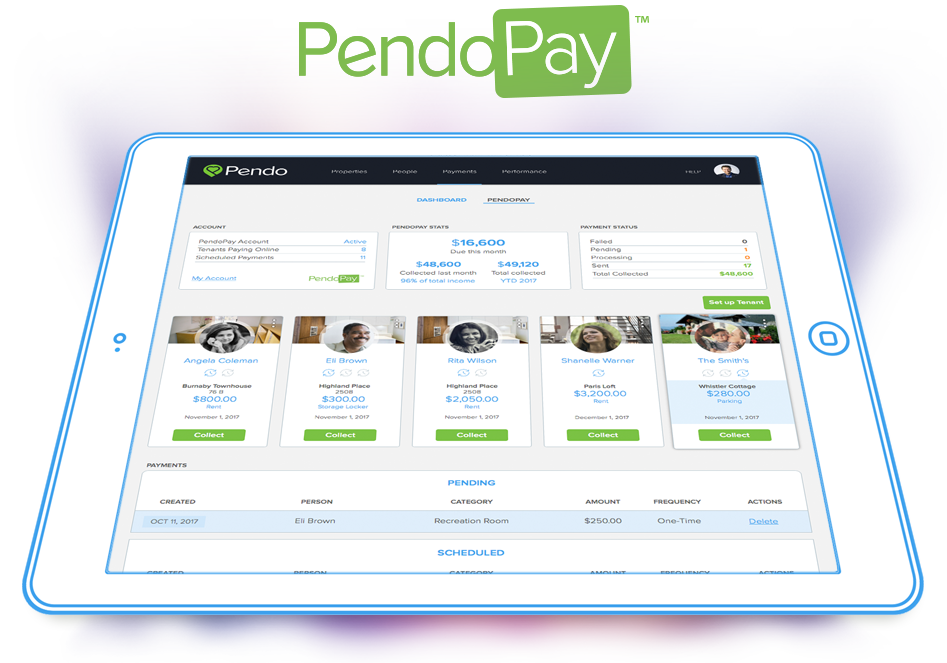 COLLECT RENT THE SUPER EASY WAY PendoPay is purpose-built for landlords, and a breeze for tenants.
Collect Rent, One-time or Recurring Payments, and all expenses related to managing your rental property.
Currently only available in Canada.
---
10 reasons why Landlords collect rent payments through PendoPay:
Eliminates the pain and hassle of collecting rent with checks & cash
Payments are secure
Improves cash flow
Reduces admin time
PendoPay automatically collects rent!
Receipts are instantly sent to tenants
Transactions are instantly synced with Pendo
Real-time reporting brings financial clarity.
Pendo tracks who's paid up and who's not.
PendoPay reduces risk of non-payment
---


Set up today and receive a Free Merchant Account with your PendoPay subscription.
Why chase checks or dispute whether the cash in the envelope dropped in your mail box at midnight was for the full amount?
As landlords, we've all been there, learned our lessons, and we know the value of clear communications and happy tenants.
STRESS FREE
Automated
Set up recurring scheduled payments and forget late payment stress.

Secure
PendoPay uses bank level security to safeguard your data and privacy. PendoPay is powered by the industry leader in online rent payments.
PendoPay doesn't store sensitive credit card information. It's an extra step to insure the information you and your tenants provide remains secure and encrypted in off-site servers through layers of security.
SECURE BANK-TO-BANK TRANSFERS
Direct Debit – Considered one of the safest ways to pay rent. At just $1 per transaction it is probably the most affordable!
"Tenants who pay their rent online pay their rent on time."


Set up today and receive a Free Merchant Account with your PendoPay subscription.
I'm ready to ditch my spreadsheets, paper files, and shoeboxes full of crumpled receipts!
Get started for free. Upgrade, cancel or downgrade anytime.