Pendo Support
How do I/my tenant get an Insurance quote?
Pendo has partnered with Square One Insurance to provide a quick and easy way to get an insurance quote for your home + contents.  At this time, policies are available our Canadian customers in AB, BC, MB, ON SK.
Square One offers three types of policies:
Home Insurance
Tenant Insurance
To get a quote, simply click on a property in Pendo and click on the Screening & Insurance card: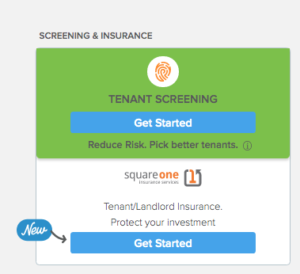 Click on Get Started and choose Landlord to proceed with a quote for yourself or Tenant to have an invitation to the Square One website for your Tenant to initiate their own quote.
Disclaimer: Quotes are provided directly to Pendo users via email and are not saved to the Pendo platform.  Any execute insurance policy is between the Landlord and/or Tenant and Square One Insurance Services.   Pendo does not have access to quote details or executed contracts.  Any questions should be directed to Square One.