Pendo Support
Building Maintenance + Servicing Tracker
This feature is available for Landlords & Property Managers of an Apartment Complex on a Pro or Enterprise plan.
Click on a Property to view the Trackers card: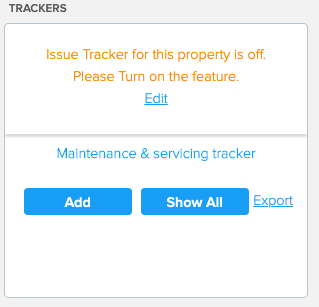 We have implemented a way for Building Managers to keep track of servicing for their properties. Categories include:
Backflow Preventers
Carpet Cleaning
Chimney Cleaning
Dryer Vent Clean Out
Elevator – Maintenance
Emergency Generator
Fire Inspection
Fitness equipment
Fountain (if applicable)
Garage gates
Hallway Vent Cleaning
Hot Water Tanks
HVAC / Mechanical Inspection
Irrigation – Off
Irrigation – On
Parkade Drains
Parkade Power Wash Service
Plumbing Stacks & Horizontals
Pool / Jacuzzi / Sauna
Roof Maintenance
Sewers / Drains
Spring Cleanup
Window & Gutter Cleaning

View the schedule right in Pendo or export to CSV. You will receive an email notification one month prior to the servicing date, never miss a service date again!