Pendo Support
Landlord PendoPay FAQ

Who can use PendoPay?
PendoPay is currently available to Landlords who own properties located in Canada. PendoPay facilitates Direct Bank Transfers to process rental payments from a tenant to the Landlord.
Note: The PendoPay service is only available to customers on a paid subscription plan.
How much does PendoPay cost?
A one time non refundable fee of $20 is charged via Credit Card to set up a PendoPay account.
A $2.50 per transaction fee is charged to collect a rental payment and deposit into a bank account belonging to the Landlord.
A $20.00 fee is charged to the Landlord for each failed payment (also known as an incomplete payment) due to insufficient funds, stop payments, account closures etc.  Essentially any time the bank is unable to withdraw funds from the tenants account.  *This fee is separate from the fee the tenants bank will charge them directly.
The transaction fees can be payable by either a tenant or the Landlord.  You can choose the recipient when you set up the PendoPay transaction.
If the Landlord chooses to pay the fee themselves, all of the fees will be charged to the Landlords payout account or designated fee account on the fifth business day of the following month.  An email summary of the fees is also provided.
What is required to set up & use PendoPay
Landlord Requirements
ID Verification including Soft Check and Credit Report via our trusted partner, Certn (The same company we use for tenant screening).  Note: the Credit Report does not affect your credit score. 
Canadian bank accounts associated to the Account holder
Current Government issued ID of the Account Holder
Signed PAD (Pre Authorized Debit form) for deposit refunds and NSF/ incomplete payment fees
Proof of title or ownership of the property may be requested if a mortgage is not present on the credit report
Tenant Requirements
Legal first and last name and email address saved in the Pendo account
A valid lease displayed to the Pendo account (Not required in AB) signed by the tenant(s) and the landlord
Canadian bank account
Signed PAD (Pre Authorized Debit form)
Copy of a void cheque or a bank provided Direct Deposit form
Note: The Pendo Subscription must be in good standing to use this service.  If a monthly/annual subscription fee cannot be processed on the registered credit card, all future scheduled PendoPay transactions will be on hold until the account is paid in full.
How do I set up my PendoPay account?
1. Go to Settings | PendoPay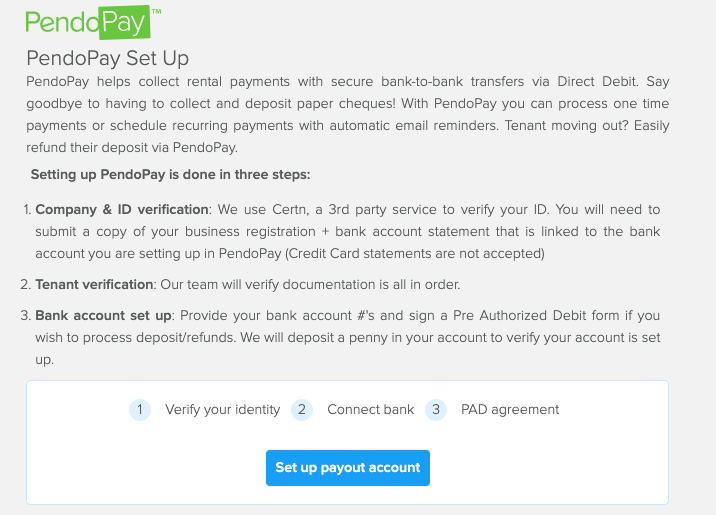 2. Complete the steps.  A credit card is required to pay for the Administration Fee.
3. Once you've submitted the form we will send a deposit of $0.01 to the account you entered within 5 days.  This transaction will be associated with TRIBE PROPERTY TECH PENDOPAY.  It's important to keep an eye out for this $0.01 deposit within the 5 days to ensure future payments are deposited into the correct bank account. If you do not receive the $0.01 deposit within 5 days, please delete the payout account and re-enter a new one as it is possible the account information was entered incorrectly.
4. Once you've confirmed your banking information, your PendoPay account will be ready to go!
How do I set up my tenant in PendoPay?
1. Go to your PendoPay page and select 'Invite Tenant'.
2. Choose an existing tenant from the drop-down list or create a new person. You can then choose to pay for the transaction fee, or have it paid by the tenant.
3. Your tenant will receive an email invitation to sign up for PendoPay and enter their banking details.
Note: the invitation expires after 1 week and you will need to re-invite them if they have not signed up within the week.
4. We will send a deposit of $0.01 to the tenant's bank account, after they have completed the banking information form.
5. Both you and your tenant will receive a notification via email when the deposit has been sent. Please allow a few days for this process to occur.
Note: If the tenant did not receive the $0.01 deposit, they are instructed to contact you so you can re-invite them to PendoPay where they can re-enter their bank account information.
6. Once the banking set up is complete, you can then proceed with creating a one-time or recurring payments. Your tenant will receive a confirmation email when a payment is created. A receipt will be sent to your tenant for all rental payments.
Note: When the $0.01 deposit in unsuccessful, you and the tenant will receive an email notification.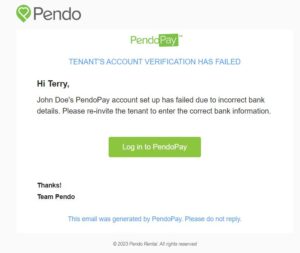 How long does PendoPay take to process payments?
For Landlords new to the PendoPay system, an identification process will be conducted by Pendo which can take up to two (2) business days.  Once verification is complete, the payments will start processing and will take 5-7 business days to transfer from the tenant(s) account into the Landlord's payout account(s).
Who processes the payment transactions?
Pendo uses Bank of Montreal (BMO) as our payment processor.  Landlord & Tenant bank account & payment information is sent via encrypted file.  Upon receipt BMO will process the payments on the date requested unless the payment date falls on a weekend or Canadian statutory holiday.  As banks are closed on weekends and statutory holidays, payments will resume processing on the next business day.
When is the cutoff time for scheduling a one time or recurring payment?
Payments must be created in our system by 5pm PST daily.  If you submit a new PendoPay transaction after this time, it will process next business day.
Can I stop a PendoPay payment?
Payments start processing at 4pm PST the day prior to the scheduled payment date.  You can only delete a payment or make changes if the payment status is in the Pending status which is prior to the cut-off time. Once the payment status changes to Processing you will not be able to modify or cancel the payment.
What happens if the payment doesn't go through? (Non Sufficient Funds (NSF) Stopped payment, etc.
Both the tenant and Landlord will be notified if this occurs via email and the failure will also appear on the PendoPay dashboard in Pendo.  The Landlord can contact their Tenant to confirm the funds are now available and either resend the payment through PendoPay or another payment method (cash, cheque, etc.)
Is there a fee charged if a payment does not go through?
We know that from time to time, for a variety of reasons, tenants don't always have the funds available in their account when you as the landlord are trying to process a payment. That can cause a lot of frustration from both parties perspective, as well as increase the fees and overall number of transactions we at Pendo have to process in order to remedy a failed payment. Incomplete payments incur an additional fee of $20.00, charged to the Landlord when we receive an incomplete payment notification from the tenant's bank. This fee is only meant to cover the additional charges we experience when having to process refunds or clawback transactions as a result of an incomplete payment. Please note that this is separate from any fees your bank, or the tenant's bank may charge.  You can process a payment through PendoPay to collect the fee from your tenant(s) as reimbursement for this charge.
* Incomplete payments may be caused by, but not limited to the following reasons: Funds Not Cleared, Non-sufficient funds, no agreement existed-business/person, stopped payments, account frozen, invalid route or institution number.
How do I avoid NSFs? 
We know you are doing your best to find great tenants, like checking references and running tenant screening with credit reports. With PendoPay you can avoid potential non-payment issues by letting your tenant's know rental payments should be in their account prior to the withdrawal date as PendoPay starts processing payments very early in the morning. By the way, to further help you reduce NSF's and those "I just forgot" moments, PendoPay sends out three friendly email reminders of upcoming rent to your tenants.
Can I refund deposits through PendoPay?
Absolutely! Just click the Send Refund button to initiate a withdrawal from your payout account to the tenants account.
How do I change my PendoPay Payout Account banking details?
To change your Payout Account banking details you need to delete the account and create a new one.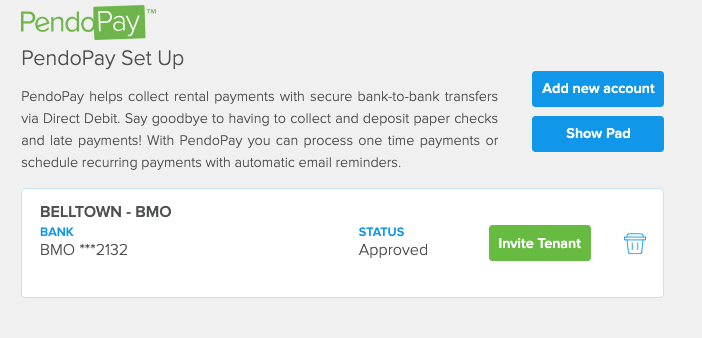 NOTE: Please check to see if you have payments pending before you delete a Payout Account as those payments will be deposited into that account.
How do I change a tenant's banking details in PendoPay?
1. Go to the tenant's profile on your People page,
2, Click the blue 'Change' button in the PendoPay card.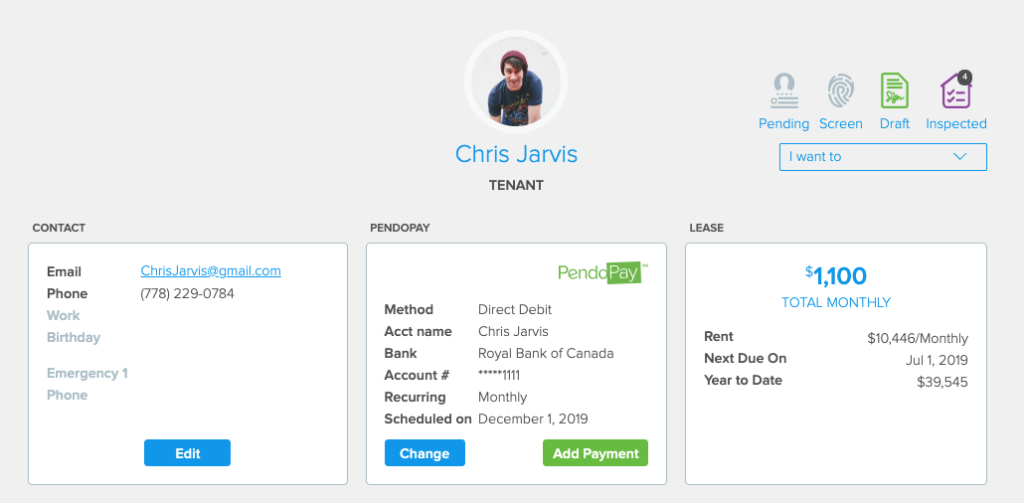 3. You can re-invite your tenant to set-up PendoPay with their new bank account details. The new banking information will replace the current information.