Pendo Support
PendoPay FAQ

Who can use PendoPay?
PendoPay is currently available to Pendo Landlords who have properties in Canada. PendoPay facilitates Direct Bank Transfers to process payments from bank-to-bank.
How much does PendoPay cost?
We charge a one time fee of $15 to set up a PendoPay account.  A $1 per transaction fee associated with each PendoPay payment which can be payable by either the landlord or the tenant. A $20.00 fee is charged to Landlords for all incomplete payments due to insufficient funds, stop payments and a $10 fee is charged for tenants inputting incorrect bank account information into PendoPay.
What is required to set up PendoPay
Landlord Requirements
Canadian bank account associated to the Account holder
Government issued ID of the Account Holder
Signed PAD (Pre Authorized Debit form) for deposit refunds and incomplete payment fees
Property Management Company Requirements
Canadian bank account
Certificate of Incorporation
Copy of recent bank account statement for each bank account added to PendoPay
Signed PAD (Pre Authorized Debit form) for refunded deposits and incomplete payment fees.
Tenant Requirements
Legal first and last name and email address saved in the Pendo account
A valid lease connected to the Pendo account
Canadian bank account
Signed PAD (Pre Authorized Debit form)
Copy of a void cheque or a bank provided Direct Deposit form
How do I set up my PendoPay account?
1. Go to Payments page and click the PendoPay tab. Select 'Set Up' under 'Account'.

2. Fill out the first page with your banking details and the nickname you'd like to use for the account.
3. Once you've submitted the form we will send a deposit of $0.01 to the account you entered within 5 days. It's important to keep an eye out for this $0.01 deposit within the 5 days to ensure future payments are deposited into the correct bank account. If you do not receive the $0.01 deposit within 5 days, please delete the payout account and re-enter a new one as it is possible the account information was entered incorrectly.
4. Once you've confirmed your banking information, your PendoPay account will be ready to go!
How do I set up my tenant in PendoPay?
1. Go to your PendoPay page and select 'Invite Tenant'.
Choose an existing tenant from the drop-down list or create a new person. You can then choose to pay for the transaction fee, or have it paid by the tenant.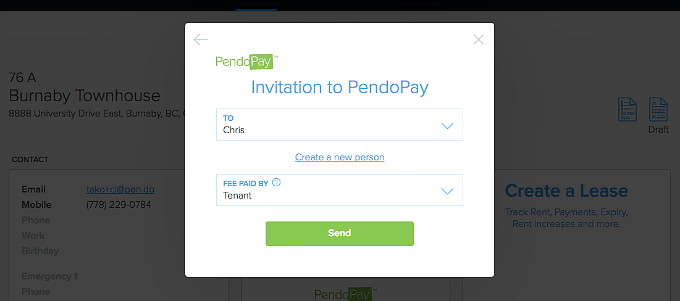 Your tenant will receive an email invitation to sign up for PendoPay and enter their banking details. Please note the invitation expires after 1 week and you will need to re-invite them if they have not signed up within the week.
Once the tenant successfully completes the banking information form, both you and your tenant will be notified by email and you can start collecting online payments from this tenant.
2. Your tenant will receive a confirmation email when a recurring payment is created, as well as notification of any changes made to the recurring series. A receipt will be sent to your tenant for all one-time payments once the payment is deposited into your Payout Account.
How long does PendoPay take to process payments?
For Landlords new to the PendoPay system, an identification process will be conducted by Pendo which can take up to two (2) business days.  Upon verification, the payments will be processed.  Once the PendoPay account is set up for the Landlord, payments will take 3 business days to transfer from the tenant account to the landlord account.  Payments do not process over weekends or statutory holidays.  Payment processing cut off time is 5pm PST daily.  If you submit a new PendoPay transaction after this time, it will process next business day.
What happens if a payment is stopped by a tenant or there is Non Sufficient Funds (NSF) in the tenants account?
PendoPay's payment processor always starts by checking to see if account details are correct, then if there are funds available. If funds are initially available they will be forwarded to your payout account, however, if a tenant requests a stop payment through their bank the payment will be returned. Keep in mind that, as with cheques, banks may reverse transfers up to 90 days (though 5-15 seems the norm). For NSF, if funds are not available you'll see a failure notice in your PendoPay dashboard. PendoPay also sends email notifications to keep you in the loop.
Am I charged more if a payment goes NSF?
We know that from time to time, for a variety of reasons, tenants don't always have the funds available in their account when you as the landlord are trying to process a payment. That can cause a lot of frustration from both parties perspective, as well as increase the fees and overall number of transactions we at Pendo have to process in order to remedy a failed payment. Incomplete payments incur an additional fee of $10.00, charged to the landlord when we receive an incomplete payment notification from the tenant's bank. This fee is only meant to cover the additional charges we experience when having to process refunds or clawback transactions as a result of an incomplete payment. Please note that this is separate from any fees your bank, or the tenant's bank may charge.
* Incomplete payments may be caused by, but not limited to the following reasons: Non-sufficient funds, no agreement existed-business/person, stopped payments, account frozen, invalid route or institution number.
How do I avoid NSFs? 
We know you are doing your best to find great tenants, like checking references and running tenant screening with credit reports. With PendoPay you can avoid potential non-payment issues by letting your tenant's know rent meant for the first of the month should be in their account prior to the 1st, rather than later in the day on the 1st as PendoPay starts collecting rent for you very early in the morning. By the way, to further help you reduce NSF's and those "I just forgot" moments, PendoPay sends out friendly reminders of upcoming rent.
Can I stop a PendoPay payment?
Once the payment status is 'Processing' you will not be able to reverse the payment within PendoPay. You can only delete a payment and make any necessary changes if the payment status is 'Pending'.
Can do deposit refunds through PendoPay?
If you are on a Plus or Pro subscription plan, you can process deposits.  If you are on a Basic plan, you will need to upgrade your account to use this feature.
How do I change my PendoPay Payout Account banking details?
To change your Payout Account banking details you need to delete the account and create a new one.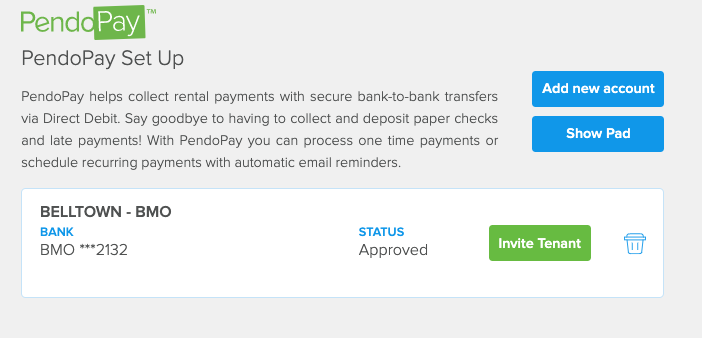 NOTE: Please check to see if you have payments pending before you delete a Payout Account as those payments may still get deposited into that account.
How do I change a tenant's banking details in PendoPay?
1. Go to the tenant's profile on your People page,
2, Click the blue 'Change' button in the PendoPay card.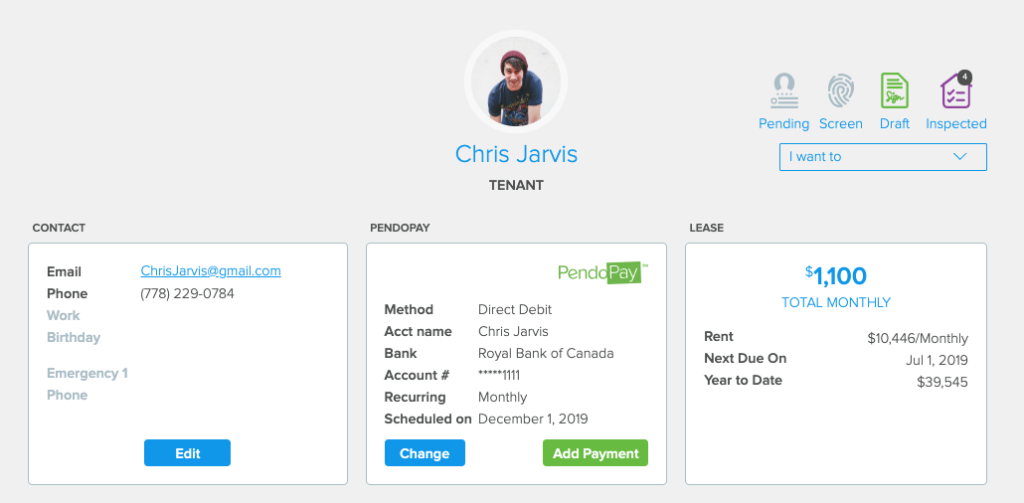 3. You can re-invite your tenant to set-up PendoPay with their new bank account details. The new banking information will replace the current information.