Pendo Support
How do I update my Deposit and/or Fee bank accounts?
In PendoPay, you can have up to three (3) different types of bank accounts:
Deposits (Security, Pet, Damage etc.) – this account may be a separate trust account where you store tenant deposits.  This account type is limited to one bank account.
PendoPay Fees – this account is where all of your PendoPay Fees (Transaction & NSF) are withdrawn from.  This account type is limited to one bank account.
Payout – this account is where you will receive rental related payments.  You may set up as many separate bank accounts as you wish.  There is no default account for this type unless you have no other bank accounts listed in thePendoPay set up.
To set up a default deposit or PendoPay Fee account, simply click on Add new account:

Follow the steps to add an account.  Once it's set up, it will be added to your account list with a Status = Approved.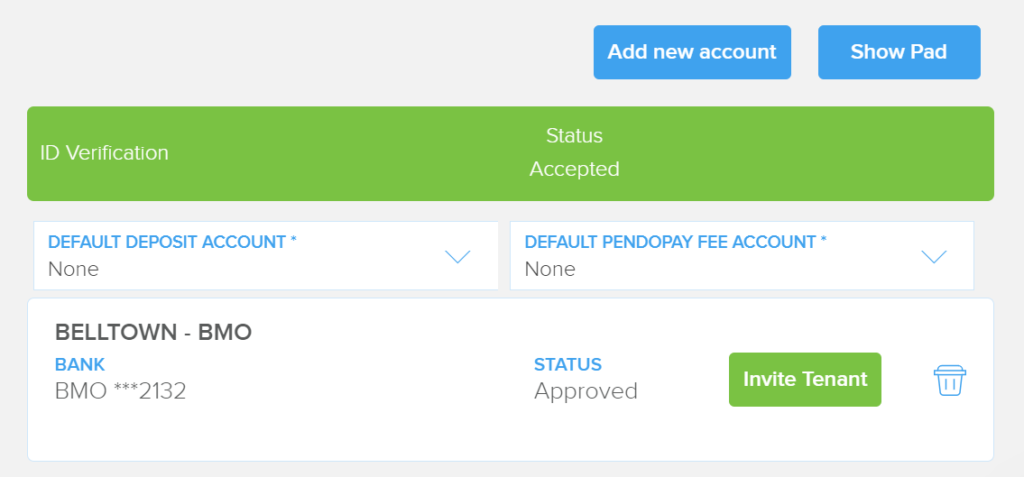 Click on the default account you wish to set up:

Then select the bank account you wish to associate with the default account.
For Deposits, this change will only affect 

new

deposits received after the date this change occurs.
For PendoPay Fees, this change will take effect all future transactions once the new information is saved on this page.
For updating the payout bank accounts for receiving rental payments, please click here.
If you have any questions, please reach out to Customer Support via Live Chat.