Pendo Support
How do I change my PendoPay payout account banking details?
Before proceeding, ensure you do not have any pending PendoPay transactions to avoid any processing issues.  If your payments are all in scheduled status for an upcoming date, you may proceed with updating you bank information.
Editing bank details is not permitted, please delete the inactive account by clicking on the garbage can.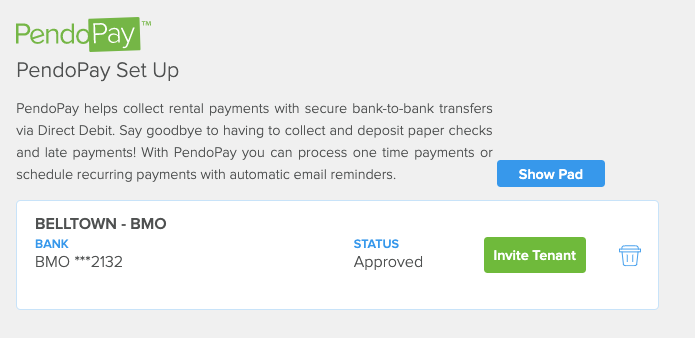 Next, click the Add new account button to set up the account.

Once the account is verified and ready to use, you can proceed to changing the payout account for existing tenants.  To do this:
Navigate to the tenant in PendoPay you wish to change the payout account for.
Click on the Change button in the PendoPay card.
Select the Payout Account drop down to select the new bank account:
Click Done when complete.
Do you need to add more payout accounts? Is the 'Add new account' button is missing? Your current plan may be restricted with the number of payout accounts.
Below is the number of accounts that are provided for each plan:
Basic plan – 2
Plus plan – 3
Pro plan – unlimited
If you need to add more accounts, please upgrade your subscription.
If you change your bank account information without updating Pendo and transactions process to the current payout account, they will be returned NSF.  You will be responsible for the payment of NSF fees charged by Pendo and your account will be frozen until the bank information is updated and the funds are processed.