Pendo Support
How do I download a copy of my inspection report?
In the event you will need to print a hard copy of your inspection report, you can download it to your computer.
To do this:
1. Click on the property to locate the inspection report and click on the drop down menu to view all inspection reports: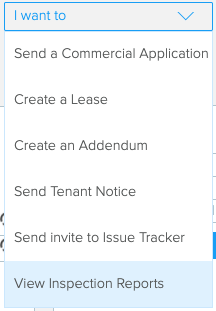 OR
2. Click on the tenant card to access the report directly.  Click on the Inspect icon:

Then click on the inspection you wish to view:

The report will then display on your screen.
Next, scroll down to the bottom of the report to find the Print button and click on it.
The Print menu will be displayed;
To print to PDF – ensure destination is Save as PDF
To print to Printer – ensure destination displays the name of your printer:
Click Save, then choose your designation folder to save the file to.  You can also rename the file if you wish.