Pendo Support
How do I send a Tenant Notice? (BC Only)
Pendo provides the following Residential Tenancy Board (RTB) forms to send to your tenant(s).
RTB 30 – 10 days notice to end tenancy for unpaid rent or utilities
RTB 33 – One month notice to end tenancy
RTB 32 – Two month notice to end tenancy
RTB 29 – Four month notice to end tenancy
To send a tenant notice,:
Please visit the Properties page and click on the drop down menu: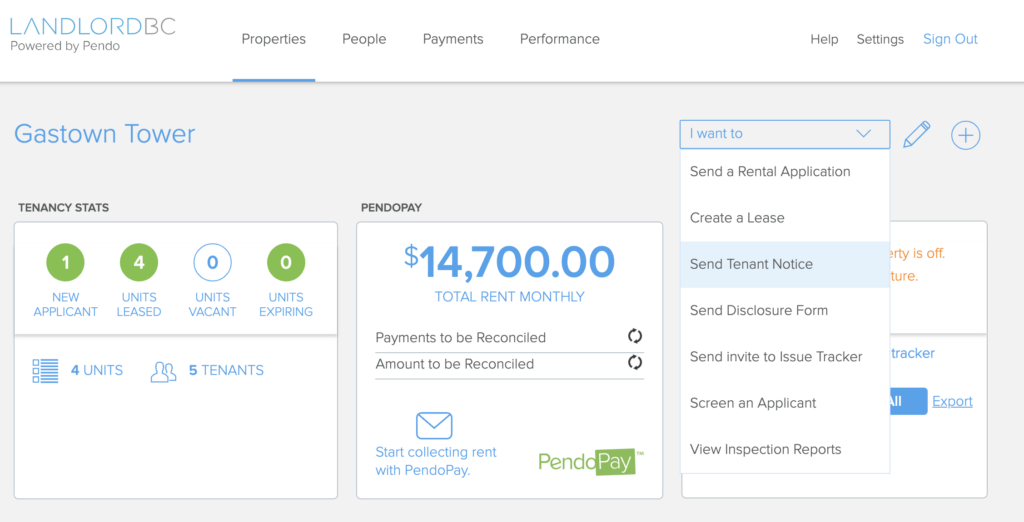 2. Select the required tenant information and choose the notice you wish to fill out.  Then click View Form.
3. The notice will open in another browser tab and allow you to fill it out digitally.  You can download to your computer and fill it out via Adobe Reader OR you can fill it out in the web browser and click print to save a PDF copy.
4. Return to the Pendo platform and click the paperclip, locate the saved file and click upload.   Choose to send now or schedule for another date.  The notice will be sent via email to the email address on file and a confirmation pop up will appear on your screen stating the email was sent.
5. Locate the file on your computer and print a copy to paper and make arrangements to service legal notice to your tenant with the hard copy.
* Please note: Effective March 1, 2021, The Residential Tenancy Act (RTA) recognizes email as an acceptable method of service. For information on the release of this policy, please click here and for more information about serving tenants, please click here.
The Activity Feed for the Property will show the tenant notice has been sent for a specific tenant.