Pendo Support
Tenant Screening with Pendo

The biggest risk for Property Managers is default and the costs associated with vacancies. It's time to discover who is most likely to pay on-time and stay in your rental.
Pendo has two types of reports to suit both your budget and screening requirements.
Pre-screen reports help you identify top applicants with confidence. Regardless of your applicant's credit history, this report will provide you with a deep quantitative understanding of their character, making it fast and easy for you to approve a quality applicant. Information is gathered from North America and beyond to give you greater insights. 
Full-Screen reports give you the full picture by including both insight into the applicants character plus a personal Equifax credit report. You'll gain insight into an applicant's North American financial history and identify financial risk. By fully assessing an applicant you'll have confidence in your tenant selection, reducing the risk of late or default payments.
How to order a Tenant Screen and Credit Report
Every screen requires an applicant's approval. A pre-screen or full screen with Equifax credit report can be ordered a couple of ways, but it always starts with an application.
Method A: Order a screen on any application currently in Pendo.
Method B: Order a screen and Pendo will send out an application. Once the application is completed Pendo will run the screen and notify you.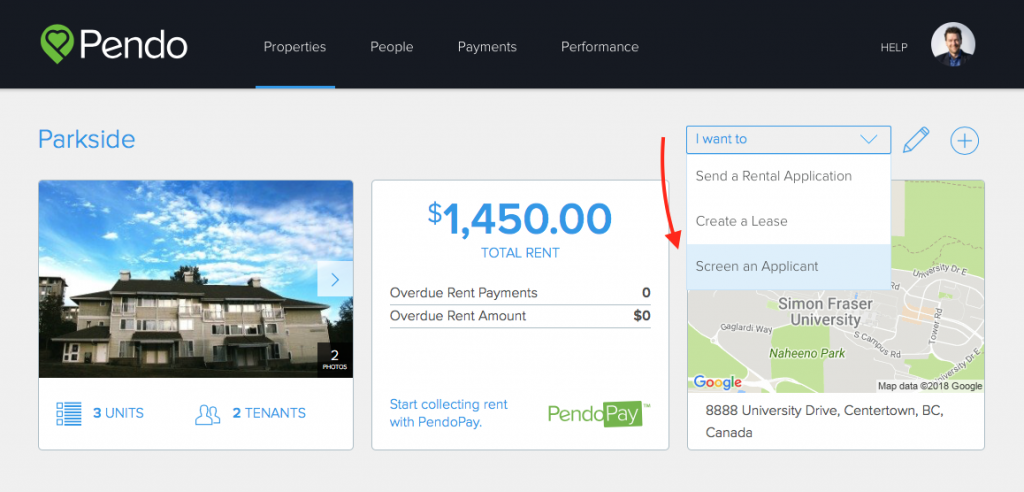 Find great tenants. Save precious time. Avoid defaults.
Tenant Screening Frequently Asked Questions
How long does it take get a report back?
If you added a new person to Pendo and order a report they will be sent an screening application via email. Once they've completed the application, a screen will be run and you'll be notified by email right away.
If a lead or applicant has already completed a Pendo application just click the "Screen Tenant" button at the bottom for a near instant report.
Can I add a Credit Report to the Pre-screen?
Yes, however, if you plan on ordering a credit report it is most cost effective to do that at the onset by ordering them together. 
What do Pre-screen Reports look like?
Check out a sample report here.
Is tenant screening free?
In general, ordering screening reports are done on a pay-as-you go basis so you just order and pay for what you need. One way to think of the cost of tenant screening is to ask yourself, "What's the cost of evicting a tenant with a dubious credit history?"
How much do reports cost?
Pre-screen report: $4.99
Full Screen report (Pre-screen + Credit Report): $19.99
I do a lot of screens. Is there a way to lower the per-screen cost?
Absolutely! If you typically run more than 20 screens per month please contact us from within Pendo or with this contact form. We'll be happy to chat with you about how we can tailor pricing to your volume.  
I've used Equifax in the past. Can you tell me more about Certn?
By analyzing social, behavioural and financial profiles, Certn is able to provide a quantitative understanding of an applicant's character. This streamlines the applicant decision-making process for property managers, which generates significant time and cost savings. Learn more about tenant screening with Certn here.