Pendo Support
How do I order a Tenant Screen or Credit Report?
Every screen requires an applicant's authorization.  If you use Pendo's digital application, the authorization is stated on the form and the tenant signs off.  If you choose to not send an application or use a hard copy of your own form, Pendo will ask the applicant for authorization via email.
Pendo offers a Soft Check & Credit report to Canadian applicants and Credit Reports to applicants in the United States.
A Softcheck or Credit Report by Equifax can be ordered multiple ways:
Property Page
Unit Page
People Page – Lead or Applicant card
For our Canadian Landlords & Property Management companies, you will be provided with the following options:
For our American Landlords & Property Management companies, you will be provided with the Credit Report option: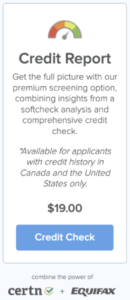 If your Applicant has completed & signed a Pendo digital application, we already have the information necessary to send the screening request to Certn.
If your Applicant has not submitted a Pendo digital application or you used your own application, when you request a screen, Pendo will send an email notification to the tenant asking for their birthday (mandatory) and SIN/SSN (not mandatory).  Click here to see the sample email sent to a tenant.
Once we have the necessary information, the request will be sent to Certn and the report typically comes back in less than five minutes.  You will receive a notification via email and the Activity Feed on the Tenant card will indicate the screen has been requested and processed.
You can then click on the link in the Activity Feed to display the screen.
For more info about tenant screening & Certn – click here.